Become a fan of our Facebook Page: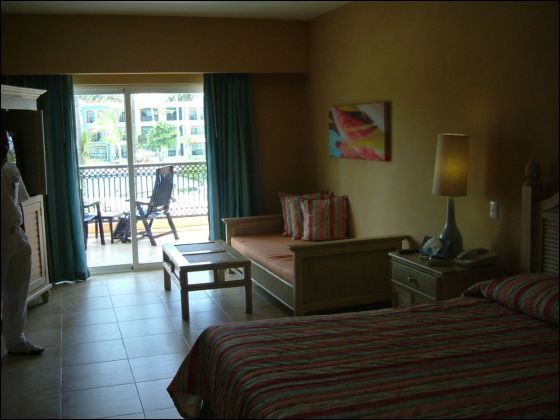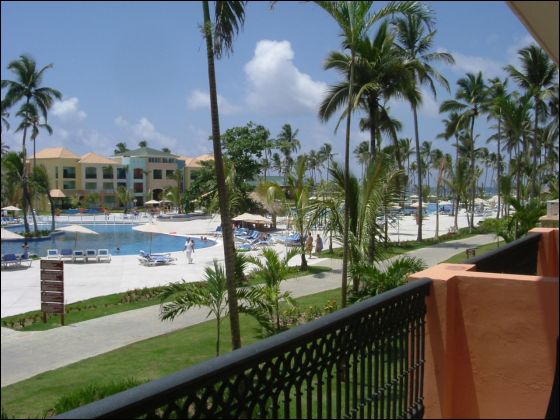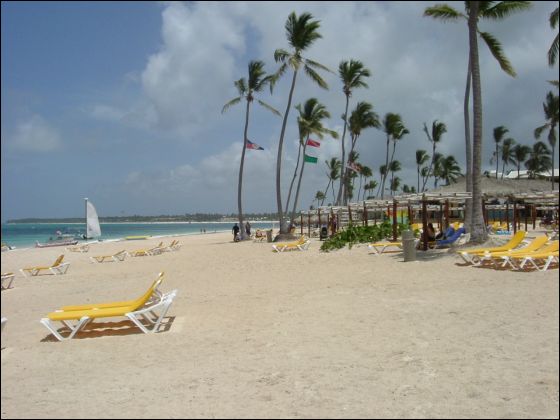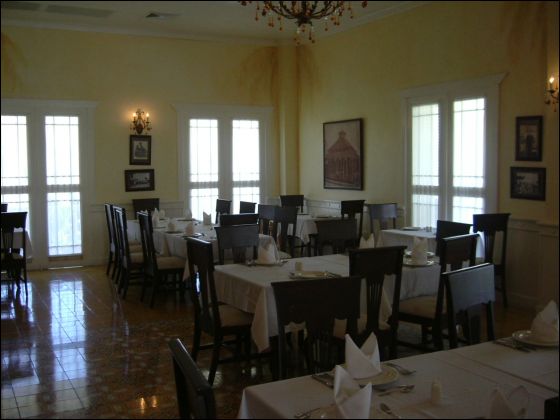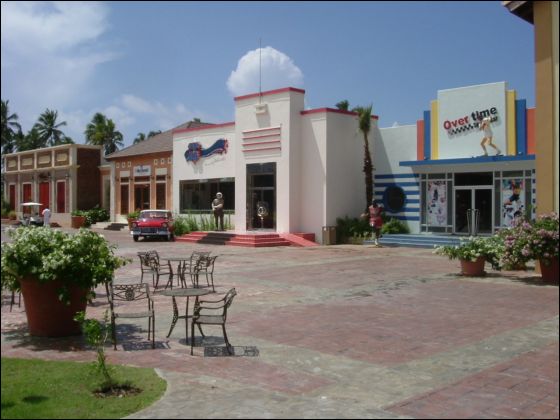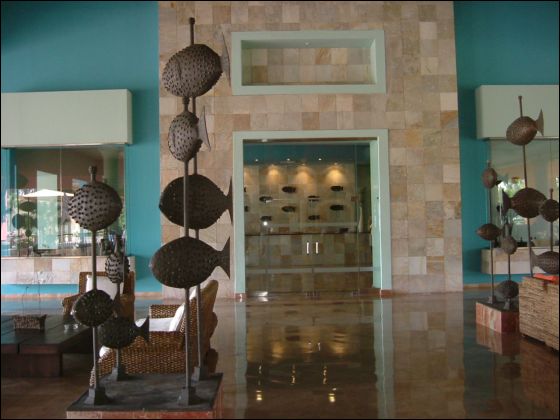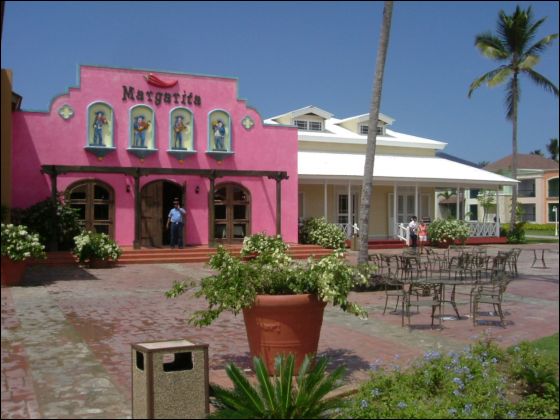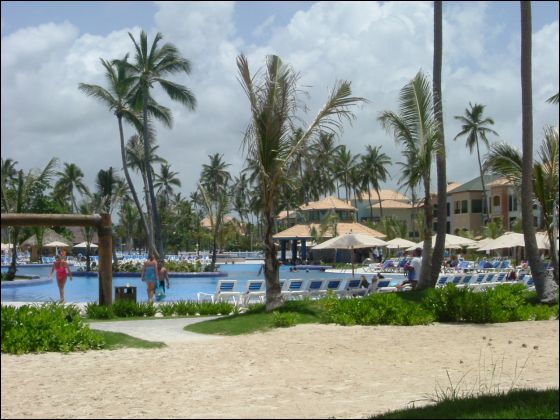 Right on the sea front at the wonderful beaches of Bávaro and close to the White Sands golf course, the Ocean Blue&Sand hotel offers you the comfort of its complete suites, All Inclusive Service and an extensive activity program to make your stay a unique experience.
Hotel:

580 Junior Suites Deluxe
116 Junior Suites Privilege
12 Honeymoon suites
Cable TV, Minibar and Safe
2 swimming pools and Jacuzzis
Lobby with Free Wi-Fi
Sports centre
Climbing wall and bowling
Diving Centre "Dive It! Scuba & Fun"
Non-motorized aquatic sports and beach activities
Motorized aquatic sports ($)
Tours ($) and entertainment programme
Internet Corner ($)
Ocean Tower Casino
RESTAURANTS:
El Carey & La Tortuga: Main buffet restaurant
La Cana: Beach Restaurant and Snacks
La Casa de mi Abuela: Dominican restaurant
Margarita: Mexican restaurant
I Mascherati Di Venezia: Italian restaurant
Route 66: American restaurant
La Brasa: Caribbean Grill restaurant
Bucanero: Sea Food restaurant ($)
El Bodegón: Chef's Table & Wine Cellar & Spanish Tapas ($)
2 pool bars
Disco bar, Sports bar and Mike's Coffee
4 snack bar
All-Inclusive 24h Service:
Meals, Local drinks and snacks included.
Privilege - Exclusive Rooms and Services
Seafront Privilege Junior Suites with private terrace and jacuzzi. Exclusive breakfast in the room.
Preferential table booking in the themed restaurants. Exclusive beach area with waiter service.
Exclusive Privilege Lounge
Special discounts in the Spa Methapormophis
Diving Center Centro de Buceo "Dive It! Scuba & Fun"
Special Privilege Pack for children.
And more exclusive services offered at all Privilege hotels.
Family
We've thought of you and know you want to spend your free time with your children. At our family hotels, you'll find everything your whole family needs to have a great time.


******REVIEWS FROM OUR VALUED CLIENTS******

(4/6/12-7nts)

Flights:
We drove from Detroit to Cleveland for our flight . We did a park & stay at the Crowne Plaza for $89 which included our room and 8 nights of parking, thought that was a great deal! Flight there was fine, flight home was delayed 2 hours, even after being delayed 45 minutes ahead of our trip. Miami tower would not clear us for take off was what we were told. Frontier planes are very comfortable and have the TV screens on each seat. However, they only sell Apple supplied snack boxes, no other snacks available, so pack a snack!


Transfers:
They were easy. You say "APPLE VACATION" after you get your luggage, and the guides will take you right to your bus or shuttle van. We had a very comfortable ride to and from. Bus was there when promised. The Apple reps in Villa 5 will have your pick up time posted the day before.

Beach: Fabulous! Lots of room, nice swimming area. My 2 teenage boys and I kayaked each day. Beware that topless sun bathers will be seen. Funny, my 15 yr old kept wanting to walk the beach!


Pool: Absolutely amazing! The temp was perfect, they have 2 very large pools, the college/high school spring breakers hung out in one, and we vacationers hung out in the other. Both have a swim up bar with great service. Very clean. Chairs were hard to come by but lucky for me my husband is an early riser and always grabbed us 4 chairs.


Service: Great! We had maid service and then a turn down service which was nice. She would bring warm towels again at night, along with chocolate :) All the staff were friendly and the Apple rep will help you with anything you need. We stayed in Villa 5 where the Apple reps were setup, so that was nice. We requested just diet soda in the fridge and the maid didnt understand so the Apple rep took care of it for us.


Apple put on a special BEACH BASH dinner on the night before we went home. It was FABULOUS! I included a picture of the setup. Beautiful! They had entertainment and a special buffet with a pig roast. Apple sure knows how to make your vacations memorable!


Food: Love the row of restaurants all together. We ate in Route 66, which was ok, son loved the ribs. Also the Italian restaurant was very good and the Mexican was just ok. The Buffet always had plenty to offer and they did a theme each night. Our favorite waiter was Hansel. Always remembered us each day so we made a point to sit in his section. There was one large buffet area with 2 separate sides of seating. There was also a smaller buffet at the beach with a large variety of food. Mikes coffee shop had excellent Peach smoothies and sweet treats for a great snack!


Rooms: 2 queen beds and a pull out sofa for my husand and I and our 2 boys, ages 13 and 15. Very spacious room, walk out patio, but we had a horrible view, wish we had a pool side view but we got the other side which was a fence and another resorts building. Oh well, we didnt spend much time in the room anyhow! Nice bathroom with a jucuzi style tub. Villa 5 was a GREAT location though, you walked right out to the pool. And, you can catch a shuttle golf cart up to the lobby and buffet, or walk to get your exercise.


Entertainment: I thought the shows were great! The Michael Jackson show they have is outstanding! There were a couple of just dancing and music shows that my teenagers were bored with, so we didnt stay. Very nice theater. We played bingo a couple days at 5pm, very few people play. We won 3 bottles of rum and 2 canvas pictures We took the free bike ride tours which actually take you into the small town area and let you stop and shop if you want. Also ride by 2 other resorts. It was fun, we did that 2 mornings for exercise. We used the kayaks also, which was really nice. The entertainment staff were all very friendly and a fun bunch.

Excursions: This year we chose the zip line which was something none of us had done before. It was raining when we got there but we still had a GREAT time! We did 12 zip lines and it was a work out! We booked this at the Apple desk. The other excursion I did was the snorkeling with the stingray and Nurse sharks. Im sorry I cant remember the specific name. My younger son (13) and I did this one while my older son (15) and husband did the deep sea fishing. The snorkeling tour was great! I included a picture of my son holding the stingray (less the stinger abililty). We saw alot of brightly colored fish and they fed them so you could almost reach out and touch them. It was very cool.


Would I return? Yes. But like some other reviews, I would like to try another resort. If you have not been to Ocean Blue though, I would highly recommend it.


Your service: OUTSTANDING! I have used your travel agency twice now and have not been disappointed. You guys keep us informed and worked hard to find us our flights because Detroit was so limited.
I would recommend your service to everyone!

Thanks Again!
Beth and Family
~~~~~~~~~~~~~~~~~~~~~~~~~~~~~~~~~~~~~~~~~~~~~~~~~~~

03/29/2012-7NTS
Hey Karin,

I know you sent this email when we got home, but this is the first chance that I have to reply to your email. With Easter and the kids being home it's been a bit hectic. Sorry but better late than never.

Overall our vacation was great and we enjoyed Punta Cana again. We had a few issues but nothing that ruined our vacation or stopped us from enjoying ourselves, just a bit annoying.

I'd have to say the most annoying/surprising thing was how many "high school" kids that were there for Spring Break. There were many kids that were out of control, they took over one of the pools daily, a lot of underage drinking and yelling/partying all hours of the night! We were totally surprised that the resort would allow this and to this extent. At first we thought they were college kids (not to say it still wouldn't have been a problem) but soon found out that they were high school kids. We saw a few sets of parents with groups of kids, but the amount of kids by far out numbered any adult supervision. If we would have known this was a such a popular resort for high school Spring Breakers, we wouldn't have chosen to stay there.

Another annoying part of the trip was the constant trying to sell time-share pitches from specific H-10 employees (H-10 property). Once they realized that we really weren't interested, their demeanor/attitude changed from exceptionally nice to a bit short/rude.

Flights: The flights there were fine and on time no problems at all. The flights home a different story, the plane to Punta Cana from Newark was over an hour late due to the traffic in Newark, which Frank well knows, our initial layover in Newark was tight to begin with. We BARELY made our connecting flight (along with 5 others), but we made it, a bit stressful running through the airport, thru customs and immigration! Then to top it off, once the plane closed it's doors and pulled out onto the runway we sat for almost an hour before take-off, again due to traffic.

Transfers: Great we shared a van with another couple so there was only one stop before our resort. A bit different than going with Apple Vacations and boarding a huge bus with multiple stops before getting to your resort. On the way back to the airport we had our own van which was very nice.

Beach: The beach was nice but not as nice as last time and it may have to do with our location?? They didn't have any of those grass huts to lay under and the endless palm trees that also provided shade if wanted. They had limited white covers and not many palm trees for shade. The beach was sandy white and soft however, when walking many areas were totally covered with some sort of brown needle type things (not sure exactly what it was). Last time we were there it was totally clean with nothing but white soft sand as far as you could see or walk. The great thing about this resort with regards to the beach was the walking distance. It was a very short walk to the beach and we were able to go back to the room or pool very quickly which was nice. At the last resort, it was a LONG walk to the beach or we had to take a trolley type thing.

Resort grounds: Beautiful, clean and well kept.. employees constantly working and keeping it clean throughout the day.

Service: Outstanding and the people couldn't be more friendly. Every one was constantly cheerful, funny and had a smile on their faces which was so nice and welcoming.

Food: O.k. There were not as many restaurants to pick from as in the past and the quality/variety wasn't as good. A reservation was never needed except for the steak house. In some ways that could be good but also bad. The restaurants were "first come first serve" and since they were small we waited most of the time except for once....we soon found out why...the Caribbean restaurant was not good at all (reason for no wait). The buffet was o.k. but always had the exact same food for breakfast and dinner was o.k. with some variety nightly due to themes. We really enjoyed lunch every day at the restaurant on the beach, great variety and great quality. That was actually the restaurant for the Privilege guests for breakfast daily.

Rooms: Good size but we were not happy with the first room. We had broken drawers in this small dresser that was not enough for 4 people so we had to keep things in our bags. The sliding glass door was broken and wouldn't lock plus the view/location wasn't the best. They were very accommodating and changed our room the next day after some people checked out. There was confusion as to the time the room would be ready and after a few visits to "check-in" it all worked out. Once we were settled and unpacked in our new room it was fine, they actually gave us a better room with a pool view that we all enjoyed.

Entertainment: Terrible.... the theater was pretty much empty with only a few people and it was a far cry from a "show". Very surprised at that!

Would we return: Yes to Punta Cana but not sure to this resort.

Your service: Good as always this being our 3rd trip with your company.

Would I recommend your company: Absolutely

Oh....we did the Cap Cana all day excursion which was wonderul!

After being there two times and comparing the two different resorts that we have stayed at, we all agreed that we enjoyed the Bahia Principe more even though it was a larger resort. It had more to offer all around and was more impressive (ie: lobby, beach, pool, restaurants, rooms etc).

Thanks for everything and I will be contacting you again for our next vacation!

Rita (& family)
~~~~~~~~~~~~~~~~~~~~~~~~~~~~~~~~~~~~~~~~~~~~~~~~~~~

(12/16/2012-7nts)

Hi there!
Overall, it was very good.
The resort was nice, the beaches were very walk-able, and the staff was pleasant and attentive.
The food was good for an all-inclusive joint (though certainly not 'gourmet'). The coffee shop was fantastic.
We upgraded when we got there to the "privileged" package for around 500 bucks (i.e., 45 per person/night). Definitely worth it from my perspective--ocean view room, private beach lounge area with padded beds, top-shelf liquor, and reservations every night for the better restaurants.

Only major complaints: 1) there were no hot-tubs (contrary to what the website would have you believe) and 2) our shuttle to the airport for our return trip never came--we nearly missed our flight off the island! Our concierge person was nice enough, finally upon our getting upset, to get a taxi to take us to the airport for free.

I am sure Jessie can elaborate if I missed anything. Thanks again and have a wonderful holiday and a happy new year.

--John
~~~~~~~~~~~~~~~~~~~~~~~~~~~~~~~~~~~~~~~~~~~~~~~~~~~
(10/28/2011-7NTS)

Vaca was awesome. We renewed our wedding vows. Unfortunately we NEVER saw or met our Apple Rep. Thank God we know what to do. After all, you booked our past 5 stays at the Ocean Blue!
The FIRST time we went to Punta Cana we met our Miguel, who at that time was an Apple Rep. We have been friends with him and his wife since that first year. He is the one that takes me to the poor school. We have become lifelong friends. They were our witnesses in our wedding renewal!

As always, THANK YOU! (our 2 pictures below :-)

Cyndi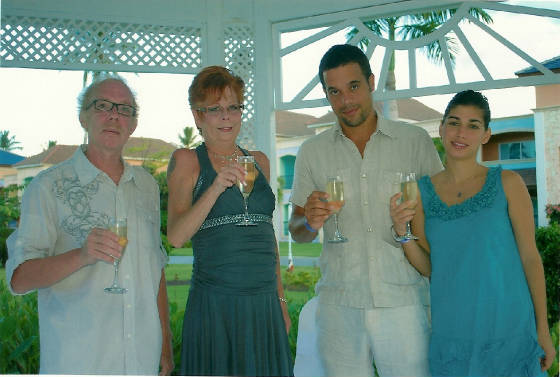 ~~~~~~~~~~~~~~~~~~~~~~~~~~~~~~~~~~~~~~~~~~~~~~~~~~~
(02/17/2011-7NTS)

Thank you, got back to Traverse City late last night and back to work today.
We had a great trip and everything was perfect. So much better than Grand Bahia in Jamaica last year.

We have no complaints about anything at all. It was not a 6 star hotel and we didn't expect that.

Joe would like to maybe upgrade next year to a 6 star and we want to return to Punta Cana. We kind of looked at the Iberostar Grand Barvaro which is adults only next door. It is fairly new too. Any reviews of that place that you can share would be helpful.

All flight arrangements were perfect, they expected us and there was no wait.

Service was great. We talked to several people who had bad luck, waited long, didn't have a room, etc. I think you do a great job and we will be looking for something there next year.

Food was great, if you didn't like something, there are plenty of options available.

The people were very friendly and accommodating.

I would recommend this resort, especially for families or groups.

It was very clean, our room and the whole resort.

Beach doesn't get much better.

Again, thanks for your service, our travel arrangements could not have been better, flights, transfers, everything. Keep us in mind for a 6 star, maybe adults, not a huge resort, and we want to fly out of Traverse City next year.

It's time for us to upgrade. If nothing else works out, we would return to Ocean Blue.

Thank you,
Karen and Joe

P.S. Once we get through pictures, we'll link some to you. We'll travel next year in Feb or early March, we are pretty open with our jobs. Our pricing is also open, we just try to maintain a limit. We might consider upgrading at Ocean Blue to the "privilege rooms" if you have info on that. We are both so busy that we need "down time" when away. So it does not need to have much to make us happy. You booked our honeymoon in August 2008 at Sandals Resort in Nassau and it was great. The food was a huge up grade and we liked that resort a lot. Anyway, we'll start looking in October 2001 so keep us in mind.

~~~~~~~~~~~~~~~~~~~~~~~~~~~~~~~~~~~~~~~~~~~~~~~~~~~
(03/25/2010-7NTS)
The flights: Air Tran was poor on the way down. Charter flight but divided flight into first class and coach. Pilot descended and landed with multiple jerking and not turbulence. Crew served pretzel (only food) ten mins before landing. No one new how to fill any documents. Very disorganize crew. Not sure I would like Air Tran again. On flight home. Asked to getting in boarding area. waited 45 mins for pilots who were late. state they couldn't get a cab. once boarded waited another 25 mins to load luggage. once in air the flight and staff were professional.
Transfers: no problem
Beach: excellent care of beach and equipment

Pool: perfect temperature and not very crowded

Service: Very good. Apple reps were awesome at hotel. Carlos and Petra at their office at their assigned hours. Willing to help with hotels, transportation, , tours, etc. They were the best apple reps.

Food: Superior! All food hot or cold as needed. Never waited for food. Restaurants were excellent. No waiting for tables. loved the Dominican restaurant. Glad there was a dress code that was enforced

Rooms: nice. Resort became full and lost some water pressure in shower. Safe broke and where up same night to fix.

Entertainment: okay. Feel asleep most nights before it started

Would you return: yes

Would you recommend this resort? for sure

How did you find our service? great. good recommendation!

Would you recommend our service to your family or friends? yes

Any additional comments: Resort was not to small or to big. Apple Reps were great to help us. Would like a vacation next spring break in Jamaica or Bahamas.
Thanks Again! Nonie :-)
~~~~~~~~~~~~~~~~~~~~~~~~~~~~~~~~~~~~~~~~~~~~~~~~~~~

Hola Frank, Marcy and Karin!!
I am working on only a few hours of sleep, but I wanted to let you know the trip was GREAT!!
Ocean Blue was fantastic. My only complaint was too many kids, but I managed to avoid most of them.
The place is beautiful the food was amazing and the staff was wonderful. I will send you some details in the next few days with some pictures too I hope.
I did want to make mention of Carlos and Petra, the two Apple reps at the hotel. The were FANTASTIC. They deserve recognition. They were right downstairs in our building so you saw them every day, at least a few times and they always checked in without being intrusive. VERY helpful to have them there rather than way up in the lobby that you never go to during the day!
Another great vacation thanks to you guys!!
Melinda

~~~~~~~~~~~~~~~~~~~~~~~~~~~~~~~~~~~~~~~~~~~~~~~~~~~
Hi Everyone!
Everything went great. We all had a great time.

Thanks for all you do!

M & P (Pittsburgh)
~~~~~~~~~~~~~~~~~~~~~~~~~~~~~~~~~~~~~~~~~~~~~~~~~~~
We had a great trip! A little too short, 1 more day would have been better :-)
Thank you for arranging such a smooth trip for us AGAIN!
Flight went well, room was super, beach was great - we walked several hours each day.
The food was good. The entertainment was a little hokey but the live music at the bar was good and even went to the disco one night.
I loved the coffee (thanks so much for telling me about the wonderful coffee) - I drank so many espresso's I couldn't even sleep at night. I brought only 1 bag home - a reason to go back!
Keep me informed of any bargains here or anywhere, even on short notice. You have always found us the best priced options and we certainly appreciate all of your efforts and expertise!
~~~~~~~~~~~~~~~~~~~~~~~~~~~~~~~~~~~~~~~~~~~~~~~~~~~
Hi Guys!
Thank you so much for your help in booking this trip! We had an awesome time! As you know, this was to be a surprise for my daughters, but I actually ended up telling them where we were going about two weeks before we left.
This was my first time taking an All/Inclusive Charter Vacation. It could not have been any easier. We were taken care of the whole way. I was not at all nervous about traveling to a country I had never been to before. I definitely think it was a great value for the price. The resort was nice, there was a nice variety of food choices between the buffet and specialty restaurants. The beach was beautiful. The ocean was very calm with very few waves.We decided to take an excursion after we had gotten there. We did one that took you out on a catamaran to a shipwreck, snorkeling and swimming in the natural pool. It was a lot of fun and the boat ride up the coast was incredible.The weather was great! It rained twice, but both times at night. It sure was hot and nice tans are being sported by all.Also, in recommending this property to anyone with children who may be concerned about them getting sick or requiring medical attention while they are there – it's not a problem. My daughter complained of ear pain so I took her to the doctor located at the resort and it couldn't have been easier. I had no problem understanding or communicating with the doctor. As it turned out, she had infections in both ears. He gave us drops to use, and even took my insurance information to bill the insurance company so I didn't have to worry about paying any additional out of pocket expenses. The office was clean and we were immediately taken care of so it only cost us about an hour out of our vacation.
We will definitely go back there the next chance we get.
Again, thanks for all of your help! I am so happy to have found you! I will recommend your service to everyone and anyone! You were wonderful to work with and were very detailed in what to expect on our stay. You really know quite a bit about the area and resorts!
Diane (Chicago)

~~~~~~~~~~~~~~~~~~~~~~~~~~~~~~~~~~~~~~~~~~~~~~~~~~~
Hey guys!
We had an amazing time! We are so glad to have returned to the Ocean Blue, I really don't think we will go to any other resort in Punta Cana!
We made a lot of great friendships and had a blast!
We did the Marinarium snorkel trip, it was alright, the water was really choppy and there weren't many bright fish or corals or anything, mostly just like a gray colored grass and same colored corals. It was still a nice snorkeling trip though. We also booked a deep sea fishing trip that was ultimately cancelled due to the 9 ft. waves they were having on the other side of the reef. We got our money back though and it worked out fine. Our Apple Reps name was Petra, she was very good and very honest, which was nice.
The rooms were great, the staff was super friendly, the food was good, the drinks were flowing and good times were definitely had by all. We can't wait to book our next trip!!!!
Thanks again for all the help you did for us and making it such a fun and easy trip!!!
Take care guys and we will be calling you soon for our next trip!!!

SP (Pittsburgh)

~~~~~~~~~~~~~~~~~~~~~~~~~~~~~~~~~~~~~~~~~~~~~~~~~~~
Hello All!
Thanks so very much first of all for your expert thoughts and ideas for our family trip! All that you said was right on the mark! It was wonderful to have such a well planned out family getaway!
It was nice to have the direct flight, it was faster than expected.

The buses that transferred us from the airport to the resort and back to the airport were very nice, air-conditioned, and clean.

The pools were nice, both had swim up bars. They were a little warm for our taste but we expected that. Not like the pools would be cooler in the tropics!
The food was probably the aspect we liked the least. They had some strange things on the buffet, for example at breakfast there was mashed bananas topped with red onions. But we were not there for the food, and it was fine, but just not what we are used to in US. But that is part of the fun - trying different foods from different cultures.
The service was great, the rooms were nice, the bathrooms were fantastic. There were floor to ceiling marble with a huge jacuzzi tub. They also had double sinks which is always a bonus. This was an extremely clean resort.
The beach was great, the water was warm and clear! The weather was great all week. It rained while we were checking out on Saturday morning, but it was more of a mist than an actual rain.
There was not much in the way of entertainment. The disco was mostly young kids, even though the sign said no one under 16 allowed. The lobby was really nice and they had singers each evening.
Dinner at the restaurants took a little longer than what we are used to in the US. But we didn't mind sometimes after we got our dinners, the servers rarely came back to see if anyone needed anything.
But all in all - we had a great family getaway and really appreciate all of your help in putting this together for us! We told all of our friends & family about your outstanding service!
Thanks for everything!
Tanya G (Detroit)
~~~~~~~~~~~~~~~~~~~~~~~~~~~~~~~~~~~~~~~~~~~~~~~~~~~

Marcy,


You were right, don't read the online reviews before you go on vacation. Len and I had a fantastic time at the Ocean Blue Resort.


We stayed in Villa 4 the room was very clean and had a balcony overlooking the pool.

There was a variety of food to choose from at buffets or the restaurants. Don't know how you could ever be hungry or thirsty.

The pools were huge and clean never a problem finding a lounge chair by the pool. I loved the beach with the white sand and palm trees and beach bar (crazy bartenders) of course.


We did the helicopter ride and zip-line definitely would recommend it.


Would go back tomorrow if possible.

We are so happy that our friend referred us to you - you were very thorough and honest and found us the best price! We got the biggest bang for our buck thanks to you! Your Service can't be Beat!

Josh & Carrie
~~~~~~~~~~~~~~~~~~~~~~~~~~~~~~~~~~~~~~~~~~~~~~~~~~~
HOLA!
Well, we couldn't be happier with our trip! You guys did it AGAIN!!!! THANK YOU!!!
Our accommodations, elite club, were stupendous. Our room was clean and kept up daily. All of our requests were met (king bed and beach front). Thanks for contacting the resort directly before our arriving. As you said, the requests can't be guaranteed, but all was just as we requested! Thanks!
The pools were immaculate, swim up service was great. Bartenders very polite and entertaining. The beaches were as well, clean and comfortable.
Our food was excellent. We ate in all and one was better than the next. My experience at Ocean Blue exceeded the expectations.
Room service was excellent, prompt and complete. I would say the only short fall were the live shows. The acoustics were pretty bad. But seriously, does anyone really base their trips on the entertainment? I think its always good for a few laughs!
I would return in a minute.
Thanks for all of your help, you will be hearing from me to plan my fall "girls trip"
RC (Boston)

~~~~~~~~~~~~~~~~~~~~~~~~~~~~~~~~~~~~~~~~~~~~~~~~~~~
Dear Frank and Marcy,
Just a little note to say what a wonderful time we had at the Ocean Blue and thank you for the email
...the staff was great and the accommodations were very nice...we had a ball...it was a beautiful place...the food was good-too much...I probably gained 5 pounds...we enjoyed all the activities but the shows at night left a lot to be desired...I went to the casino and enjoyed that...the bowling was fun and there was nothing bad to report...
Thanks for all the good correspondence before the trip and I will definitely call you in the future for any travel plans...

PLG (Cleveland)